Official Description
Edit
Team up and fight with your friends in the App Store's first Multiplayer Online Battle Arena (MOBA)! Gather your teammates, strengthen your Heroes and wipe out the enemy base in thrilling, addictive and fast-paced games. In Sinskaald Rift, a mysterious region of Haradon, immortal warriors have been fighting for centuries. They are known as the Heroes of Order & Chaos!
» An exceptionally rich and addictive game « • Choose between 30 unique and varied Heroes, from melee bruisers to devastating wizards • Play for free with different characters and enjoy a changing rotation of free Heroes • Develop and upgrade your skills and equipment throughout the game to overpower your foes and carry the game! • Real-time action: Roam over the map and lure your opponents to ambush them in the fog of war
» An immersive experience with friends or on your own « • Fight solo or in multiplayer mode on two types of maps (3v3 or 5v5)  • Blend cooperation with buddies and competition against the opposing team into addictive games • Develop team play and strategies to rule the world of Haradon
The newest version of the game has included the choice of two servers: World, or China.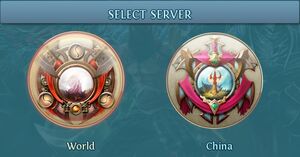 China(Server): was created because of the amount of people playing from China
World(Server): was created for international people, who doesn't understand Chinese, and for the low amount of people which, as of now lots of people are playing the World, but China(Server) is still more players than World(Server).
Downloads
Edit