Balondis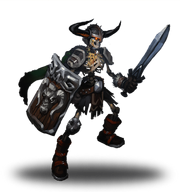 Difficulty
Physical

Magical

Resilence 

Support

Cost :17,400 or 720


"Mercy? Ha! They don't call me Balondis the Merciless for nothing!"
An empty grave on the Whispering Islands read "Here lies Balondis the Merciless, who snapped the back of the great King Gyre." This inscription is all Balondis knows of his former life. He wanders Haradon, searching for clues that could tell him who he once was.
Corrosive Dust
Balondis showers his enemy with a handful of abyssal dust.
Damage: 80+0 HP
Movement Speed Reduction: 40% for 2 seconds.

Carrion Swarm
Summons a horde of bats around Balondis.
Deals 15+0 Damage per second to nearby enemies; lasts 5 seconds.    

Undying Vengeance Passive - Reduces incoming Magical Damage by 3%.
Active: An enemy who targets Balondis with a skill receives 25+0 points of Damage and is stunned for 0.5 seconds; lasts 6 seconds.

Infernal Cage
Balondis immobilizes his enemies by trapping them in a spiritual cage.
Damage: 65+0 points of Magical Damage every second to the enemy for 5 seconds.
Base Stats
Edit
| Level | HP | MP | DMG | ATK SPD | ATK RNG | MOV SPD | PHYS DEF | MAG DEF | HP REGEN | MP REGEN |
| --- | --- | --- | --- | --- | --- | --- | --- | --- | --- | --- |
| 1 | | | | | | | | | | |
| 2 | | | | | | | | | | |
| 3 | | | | | | | | | | |
| 4 | | | | | | | | | | |
| 5 | | | | | | | | | | |
| 6 | | | | | | | | | | |
| 7 | | | | | | | | | | |
| 8 | | | | | | | | | | |
| 9 | | | | | | | | | | |
| 10 | | | | | | | | | | |
| 11 | | | | | | | | | | |
| 12 | | | | | | | | | | |
| 13 | | | | | | | | | | |
| 14 | | | | | | | | | | |
| 15 | | | | | | | | | | |
Gilded Fury: 540 Runes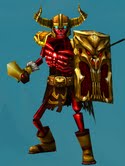 Earthly Remains: 990 Runes