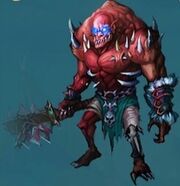 "Tonight, I'll feast of the flesh of fools..."
A wicked demoniacal tyrant from a time before the stars collided. No one knows the name of the unfortunate soul who raised the wretched beast, Kagax from his tomb. But whoever pulled Kagax from the darkness violated the first rule of necromance: "Never summon an undead creature if you aren't powerful enough to put it back in grave."
Tortuous Cleave
Kagax wounds himself, enabling him to feed off of the pain and greatly damage his enemy. Cost: 25 HP
Damage: 120+0

Bloodletting
This Tyrant was born for the fight.
- Damage: 212+0
- Movement Speed Reduction: 46% for 3 seconds.


Pleasant MiseryWhat doesn't kill you makes you stronger The Tyrant's injuries feed his power.
Effect: 3%/5%/7%/9% increase to Attack and Movement Speeds for every 9% of missing HP.

Fury
As Kagax channels the great battles of his previous life, he becomes a ravenous warrior, hungry for pain.
Effect: Immortality for 3/4/5 seconds. During this time, Kagax absorbs all Damage, 50% of which goes toward restoring his own HP.
Base Stats
Edit
| Level | HP | MP | DMG | ATK SPD | ATK RNG | MOV SPD | PHYS DEF | MAG DEF | HP REGEN | MP REGEN |
| --- | --- | --- | --- | --- | --- | --- | --- | --- | --- | --- |
| 1 | | 0 | | | | | | | | |
| 2 | | 0 | | | | | | | | |
| 3 | | 0 | | | | | | | | |
| 4 | | 0 | | | | | | | | |
| 5 | | 0 | | | | | | | | |
| 6 | | 0 | | | | | | | | |
| 7 | | 0 | | | | | | | | |
| 8 | | 0 | | | | | | | | |
| 9 | | 0 | | | | | | | | |
| 10 | | 0 | | | | | | | | |
| 11 | | 0 | | | | | | | | |
| 12 | | 0 | | | | | | | | |
| 13 | | 0 | | | | | | | | |
| 14 | | 0 | | | | | | | | |
| 15 | | 0 | | | | | | | | |